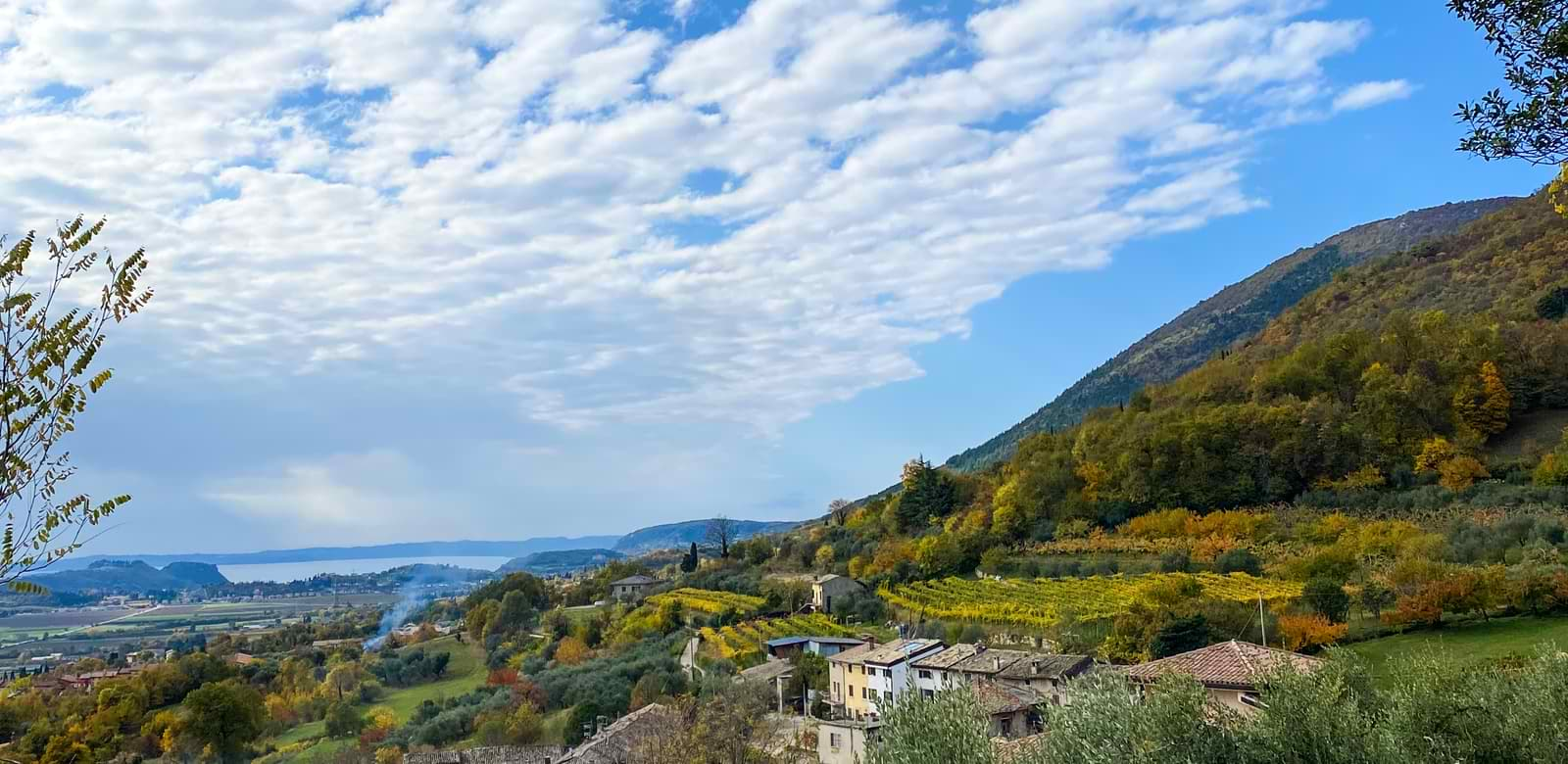 WINE TASTINGS
Enotourism, Winery visit and tour
Wine Tasting between Lake Garda and Monte Baldo
Visit the Vinicio Bronzo winery and the highest vineyards of the Bardolino DOC area. During a walk through our vineyards with a magnificent view of Lake Garda, we will tell you about our history and the uniqueness of the wines of our region.
BOOK YOUR WINE TASTING TOUR
THERE ARE NO TASTINGS FROM SEPTEMBER TO MARCH. HOWEVER, OUR SHOP REMAINS OPEN ALL-YEAR WITH THE USUAL OPENING HOURS.
Come and discover what happens when Monte Baldo meets Lake Garda!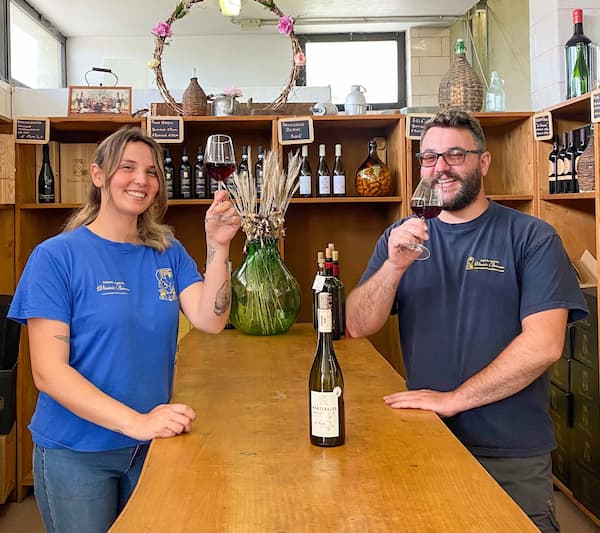 STEP 1 - WELCOME TO THE WINERY
Upon your arrival at the winery, you will be welcomed by us, Davide and Patrizia. At the beginning of the tour we will share with you the history of our company and our family.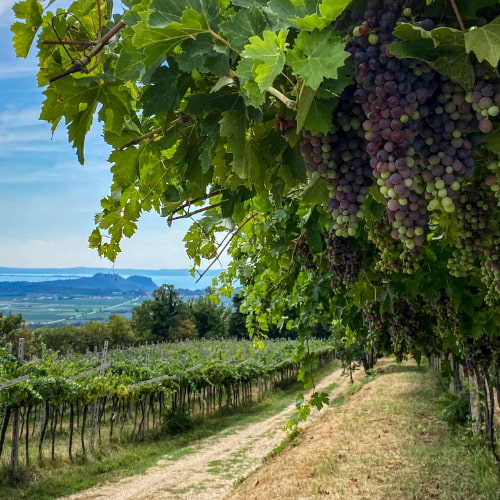 STEP 2 - PANORAMIC WALK THROUGH THE VINEYARDS
After a brief introduction in the wine cellar, it's time for a walk. Amidst our vines, with a view of Lake Garda, we will explain the characteristics of our vineyards and the surrounding hilly landscape.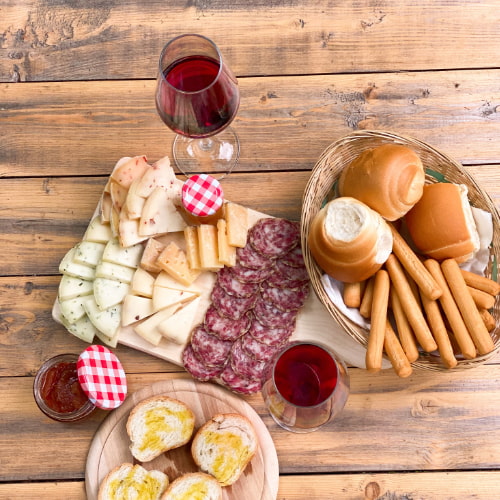 STEP 3 - WINE TASTING AT THE "STAFOLETO"
Now that we have introduced you a little bit to our history and region, we set off for the tasting. Arrived at the so-called "Stafoleto" we start with selected wines combined with typical local products. Davide will accompany you in the discovery of the aromas and flavors of our wines and will be happy to answer all your questions.
The selection of wines we have put together for your taste experience:
Sauvignon Blanc IGT
Bardolino Chiaretto DOC
Montebaldo Bardolino DOC Le Grotte
Terre Rosse
Combined with local delicacies:
Crostini with extra virgin olive oil from our own production
Selection of local cheeses from Fattoria Monte Baldo
Cold cuts platter with local products from the Salumeria Lenotti
Note: Everything we serve you comes from farmers of the association Marchio del Baldo.
The selection of wines and/or gastronomic specialities may vary a little depending on the season.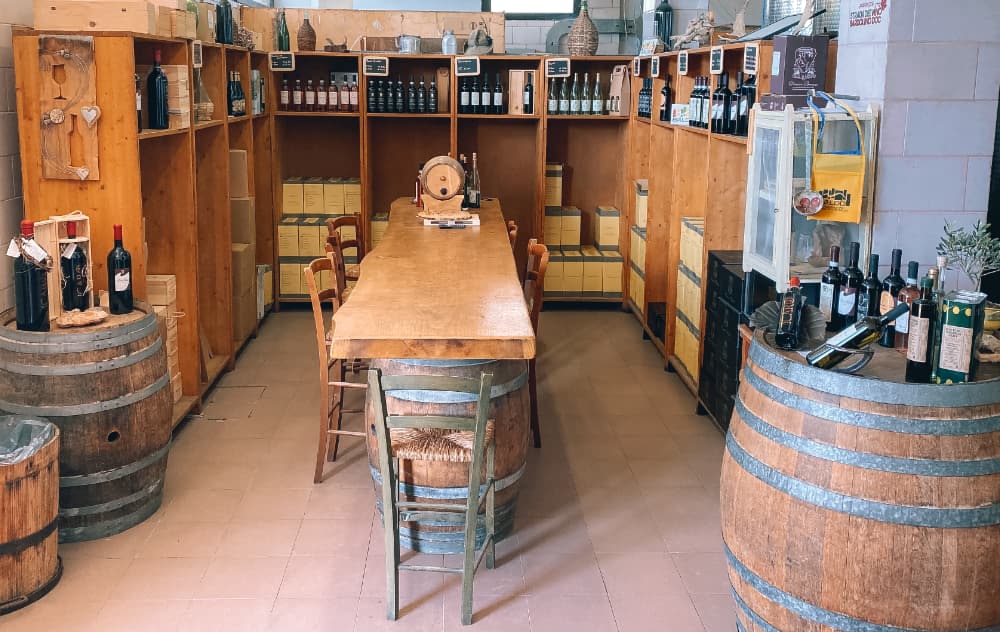 STEP 4 - BACK TO THE WINE CELLAR
After the tasting, when you return to the cellar, you can shop and peek at our winemaker's new experiments.
BOOK YOUR WINE TASTING TOUR
THERE ARE NO TASTINGS FROM SEPTEMBER TO MARCH. HOWEVER, OUR SHOP REMAINS OPEN ALL-YEAR WITH THE USUAL OPENING HOURS.
€20,00
per person
Payment on arrival
Tour duration:
about 1h 30m
Friday 10:30
Saturday 10:30/17:30
Sunday 10:30
To participate, it is essential to book at least 48 hours before.

Upon specific request we can also consider other days and times. Contact us directly by email or telephone 349 5102649 (also Whatsapp).
INFOS
Does the tasting also include food?
Yes, together with our wines you will be served local specialities . Please note, however, that this is not a complete meal.
If it rains?
Even if it rains, the tasting will take place. Unfortunately we will not have the opportunity to go to the vineyards but we will still make your experience unique and equally educational and fun. Either way it will be a great experience and we will devote more time to tasting in our tasting room.
Note:
In case of rain we will accept groups of max. 10 people and the times and organization of the tastings may vary.
Can I bring my dog?
Animals are our great friends, so absolutely yes!
In which languages do the tours take place?
Both english and italian.
What payment methods do you offer?
We accept cash, credit cards and Satispay.
Is a wifi connection available?
Wifi is only available at the wine cellar.
Where can I park my car?
We have a private parking place.
Where does the experience take place?
On our vineyard in Caprino, in the south-eastern inland of Lake Garda.
Località Casette di Gaon, 41C 37013 Caprino Veronese VR
Do you also ship the wine?
Yes we ship worldwide.